Boarding: Dogs and Cats
We have a new boarding facility for those of you that need a place to leave your pet for a day or for an extended period of time. Our kennels are composed of large runs which offer your pet plenty of space to get around. Each run has solid sides which prevent direct contact between other individuals. Our kennels are also heated and air conditioned and we have a "fenced-in" exercise area so that the animals can be taken out for some fresh air (weather permitting).

We also have a separate room for boarding cats. We have extra large cages for those cats that will be with us for an extended period of time.

We do require that all animals are current on all vaccinations before boarding. Please check with our staff if you have any vaccination questions.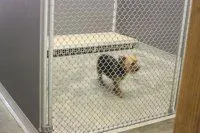 Vaccinations required:
-Distemper/Parvo 5-way combo
-Kennel Cough (Bordetella)
-Rabies